One Day Machine Embroidery Workshop
Course: One Day Machine Embroidery Workshop
Duration: One day, 10am – 4pm
Price: £80 each (2 or 3 people), £150 (one person)
Location: Kingston Upon Thames, Surrey
Course Start Dates
Course dates are flexible; please get in touch for the next available date.
---
Accessible by public transport
Suitable for beginners
---
BOOK
Please email me to book or find out more about my courses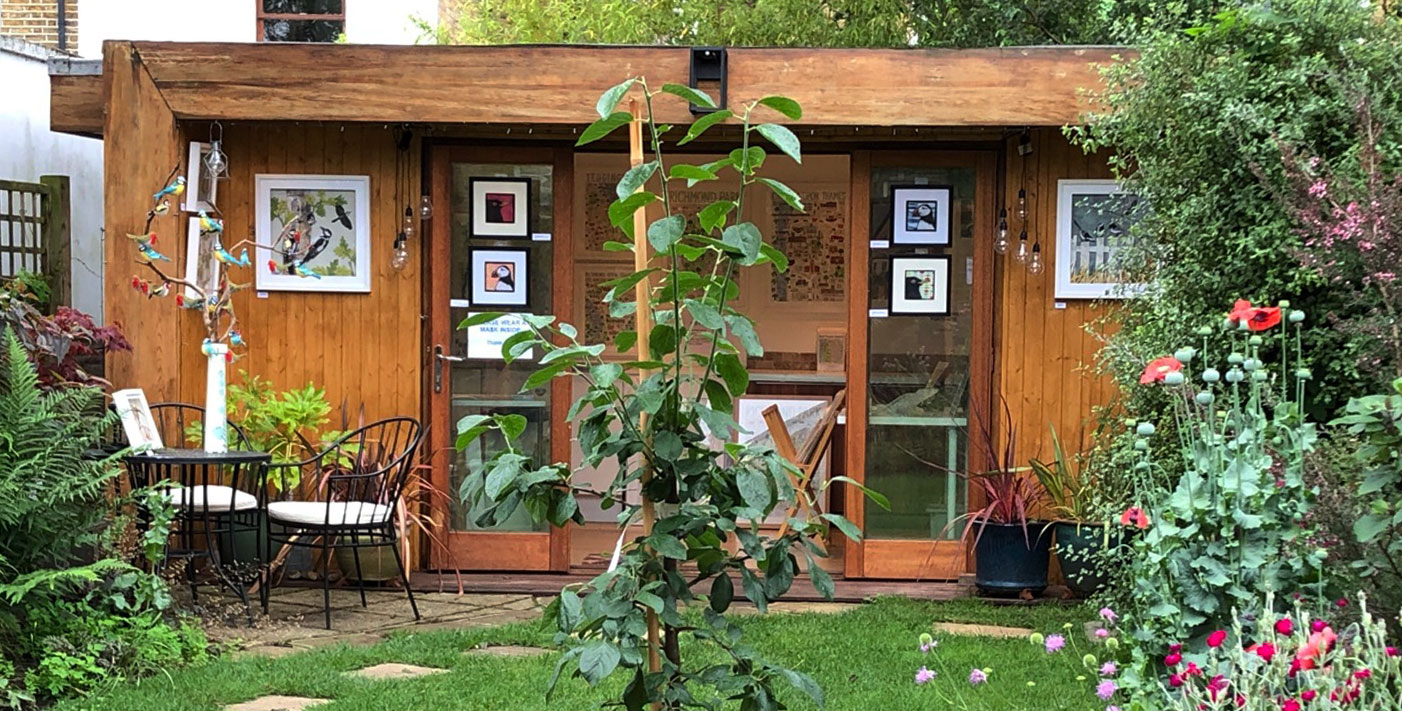 All workshops take place in my garden studio
About the Course
In this fun and inspiring workshop you will learn how to really make the most of a sewing machine, using it to 'draw' and create a set of unique stitched samples. You have the choice of working from your own images (drawings and/or photos) or from some of mine. As the course is run for no more than 3 people at a time, it can be tailored very much to individual needs and requirements.
By the end of the day you will have:


Learnt how to set up a sewing machine for free machining
Learnt how to prepare images and fabrics for free machining
Studied a range of samples for inspiration and understanding
Watched a range of demonstrations
Experimented with different ways to add colour to your images: threads, dyes, inks
- Experimented with free machined cording techniques
Experimented with reverse applique
- Understood health and safety issues when free machining
- Created a set of sample images to take home with you
Received a set of technical handouts to support your day's learning
The workshop is run for groups of no more than 3 people on a day negotiated with me (can be weekdays or weekend) and is held in my garden studio close to Richmond Park and Kingston town centre. The cost for the 1 day workshop is £80 each, or if you want to do the course on your own it will be £150.
I have over 30 years experience teaching art, textiles, printmaking and illustration in further and adult education, in colleges and privately too, so you can be certain of well structured, well paced and inspiring teaching and learning.
Alongside my teaching, I have been a practicing artist and designer for over 30 years, exhibiting nationwide and working commercially within the fields of textiles and illustration.
What's included in the price?
Costs include all materials, coffee, tea and soft drinks. You can use my Pfaff sewing machines, or bring your own if you feel more comfortable with a machine that's familiar. If you are bringing your own, you just need to check beforehand that you can drop the feed and bring an embroidery foot that fits your machine.
BOOK
Please email me to book or find out more about my courses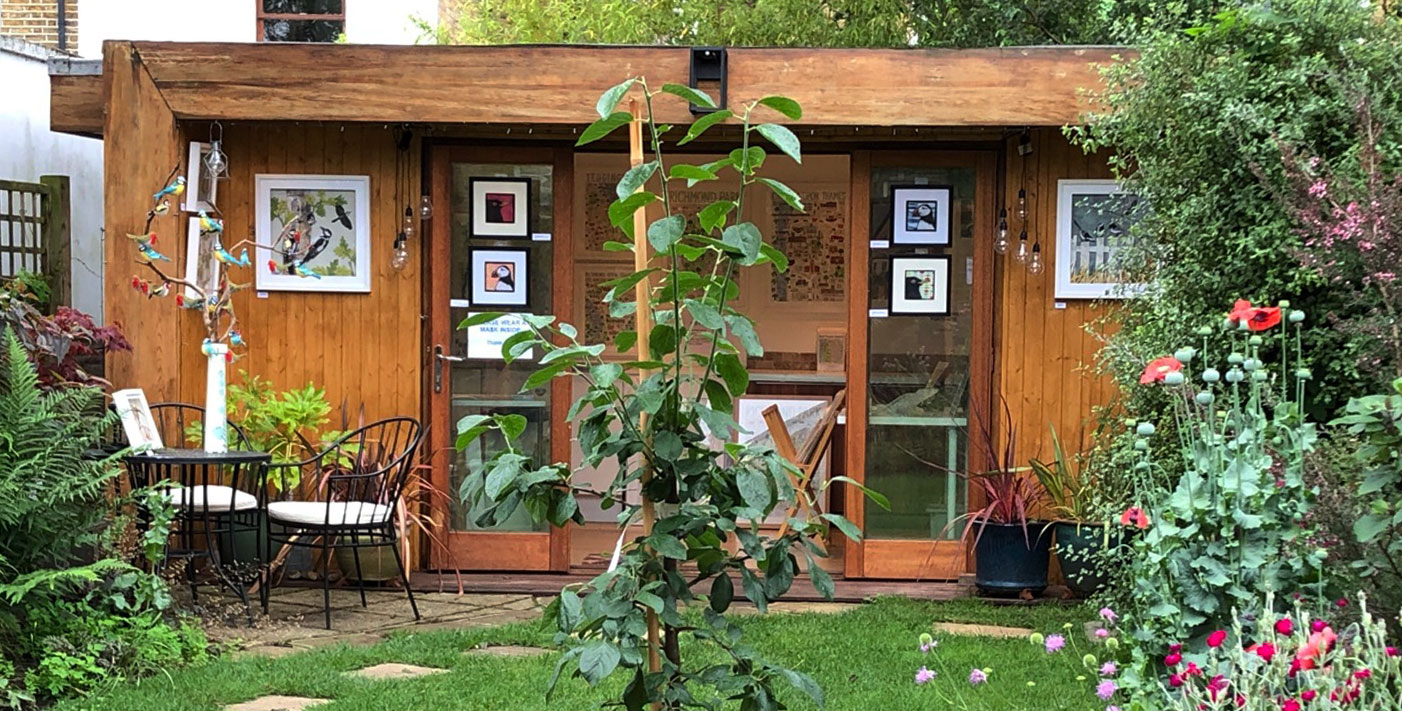 All workshops take place in my garden studio
A great course in a lovely setting. Learnt so much in just one day.
Fran Stevens
I thoroughly enjoyed my one day course learning free machine embroidery. There is nothing more fulfilling than learning a new skill and discovering a passion for something new! Ruth showed me so many techniques, and she has such a wealth of knowledge and so many examples, that I genuinely came away inspired to continue to build upon what I had learnt. Ruth's studio was a great place to learn in; it was both relaxing and had a beautiful outlook, and I enjoyed so much delicious homemade food.
All in all, the workshop experience was a real treat!
Sarah Coles
This course was just what I had hoped it would be. Ruth is such a lovely person. Her relaxed manner enabled me to learn with ease. It's amazing how much my machine can do. Without the expertise of Ruth I would never have realised what it, and I, am capable of.
Lunch and cake were a nice bonus.
I'd certainly return for another day course to learn more.
Jane worrall
I had a splendid day with Ruth. I have a project that I needed help with and she sorted out my layout, then we got to the sewing bit, whereupon I found I could do all sorts of things on my machine that I didn't know I could, though it became apparent that I need to practise….
My project is well on its way. In the course of the day Ruth gave me all sorts of hints tips and tricks that I just hope I'll remember, and handouts to help.
Lunch and cake was good too!
Lesley Alexander
Had a wonderful day, so nice to take some time out to learn a new skill and create something. Ruth is a great teacher , very patient and encouraging. Her studio is a lovely place to work in. The whole day was really inspiring !
Frances
Just attended a fabulous one to one day course with Ruth Blackford – Textiles/Machine Embroidery. Ruth made the day fun and gave me lots of ideas and helped me to develop my ideas. She made me very welcome. Would thoroughly recommend Ruth as a Textile teacher.
Carole
A thoroughly enjoyable course and so much packed into one day. Leaves me wanting to attend another course by Ruth Blackford.
Embroidery fan
How can I tell you how much I enjoyed this day course?! Ruth was an excellent teacher and got us using so many different stitches and effects. She has a delightful warm personality and she is a first rate textile artist and inspirational as an instructor.
I classed myself a fairly good seamstress, having made men's suits but I didn't know any of the embroidery effects that Ruth taught us. I learnt so much, it was a truly enjoyable day.
Elaine Pamphilon
I had an excellent and highly enjoyable day learning lots of new sewing techniques. Ruth was very flexible and happy to tailor the course to any desired technique. Ruth's garden studio is charming and she is a very warm and patient teacher with lots of teaching experience, making it all in all a great experience! Highly recommend.
Anna Pamphilon
Challenging but at the same time very achievable thanks to the great tutoring by Ruth Blackford.
Sewing queen