Two Day Experimental Monoprinting and Collagraph Printing Workshop
Course: Two Day Experimental Monoprinting and Collagraph Printing Workshop
Duration: Two days, 10am – 4pm
Price: £150 each (2 or 3 people), £270 (one person)
Location: Kingston Upon Thames, Surrey
Course Start Dates
Course dates are flexible; please get in touch for the next available date.
---
Accessible by public transport
Suitable for beginners
---
BOOK
Please email me to book or find out more about my courses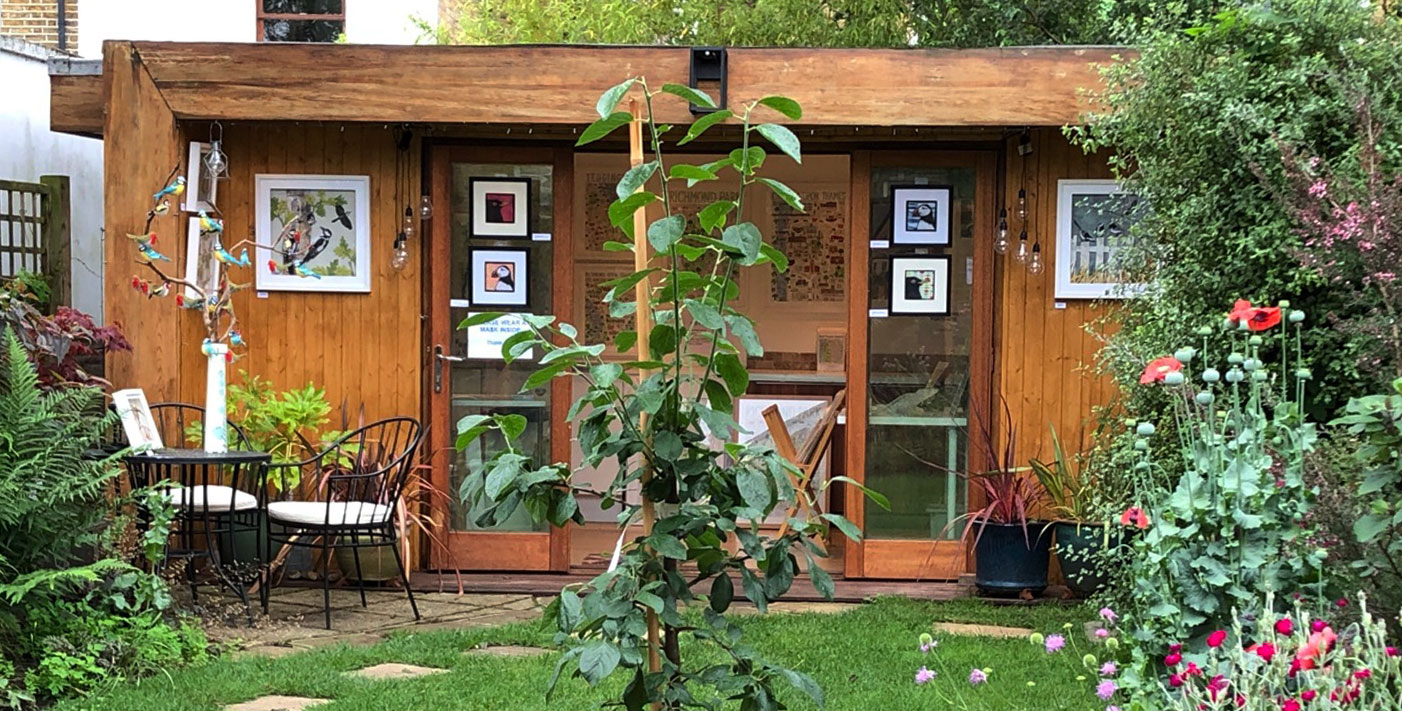 All workshops take place in my garden studio
About the Course
In this fun and inspiring 2 day workshop you will learn a number of monoprint and collagraph print techniques on paper and/or fabric. You can work from some of your own images (photos and/or drawings) or from some of mine. Emphasis is on experimenting to achieve a range of visual effects. As the course is run for no more than 3 people at a time, it can be tailored very much to individual needs and requirements.
By the end of the day you will have:


Learnt about materials and equipment required for monoprinting and collagraph printing
Studied a range of examples for inspiration and understanding
Observed a number of demonstrations for inspiration and understanding
Created a set of printed images to take home with you
Understood health and safety issues when mono and collagraph printing
Received a set of technical handouts to support your day's learning
The workshop is run for groups of no more than 3 people on days negotiated with me (can be weekdays or weekend) and is held in my garden studio close to Richmond Park and Kingston town centre. The cost for the 2 day workshop is £150 each, or if you want to do the course on your own it will be £270.
I have over 30 years experience teaching art, textiles and printmaking in further and adult education, in colleges and privately too, so you can be certain of well structured, well paced and inspiring teaching and learning.
I have been a practicing artist and designer for over 30 years, exhibiting nationwide and working commercially within the filed of illustration and textiles.
What's included in the price?
Costs include all materials, tea, coffee, soft drinks.
BOOK
Please email me to book or find out more about my courses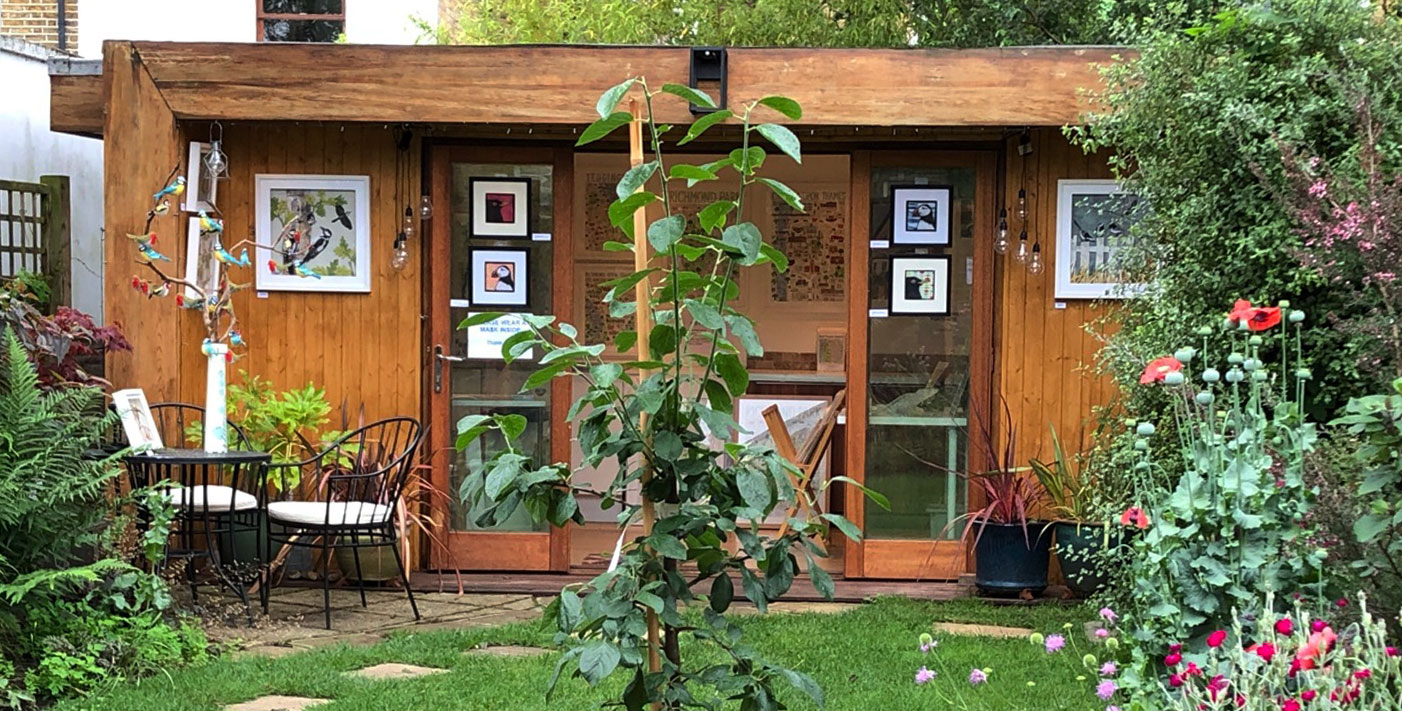 All workshops take place in my garden studio
If it was possible to leave Ruth 6 stars I would! A fabulous two days spent printing and laughing. A joyous experience in lovely surroundings with delicious food from an attentive host. I look forward to going back for more, (artwork and food!)
I would highly recommend Ruth as a teacher – wonderful.
Sally Bowen
I feel blessed to have been able to do Ruth's two day monoprinting and colograph course. In the peaceful and creative world of her garden studio I was able to apply myself singlemindedlly to learning new techniques with an experienced and encouraging teacher at my bid and call. Although the course is clearly structured, I felt my individuality would always shines through. Creature comforts were catered for, including delicious lunches and any amount of refreshments and I came away with a lovely bundle of prints and 'handouts' to remind me of what I had learned.
Patsy Chapman
I found Ruth's two day print monograph and collagraph course completely inspiring and I can't remember a time when I've completely lost myself in such an enjoyable learning experience. I came away feeling hugely energised and enthused about learning more.
Ruth is a fantastic teacher – the course was really well structured and she strikes a perfect combination of discipline and freedom. It was a real pleasure to learn some new skillsMaggie in such a welcoming environment whilst being offered endless slices of delicious chocolate crunch!
Maggie Perrin
I undertook Ruth's two day course recently and thoroughly enjoyed it. Would love to do it again!
Ruth is a great teacher; she encourages creativity, experimentation and once techniques have been explained she allows students to follow their own ideas.
The work created on the first day can be incorporated into the second day and there's plenty of opportunity to create a substantial amount of art work.
She was also an excellent host offering regular refreshments, home made fridge cake and a delicious variety of fresh salads, cheese and bread for lunch.
Highly recommend.
Annabel Barnett
Never thought I was capable of creating beautiful images. Superb direction by Ruth Blackford!
aspiring print maker