One Day Experimental Monoprinting Workshop
Course: One Day Experimental Monoprinting Workshop
Duration: One day, 10am – 4pm
Price: £80 each (2 or 3 people), £150 (one person)
Location: Kingston Upon Thames, Surrey
Course Start Dates
Course dates are flexible; please get in touch for the next available date.
---
Accessible by public transport
Suitable for beginners
---
BOOK
Please email me to book or find out more about my courses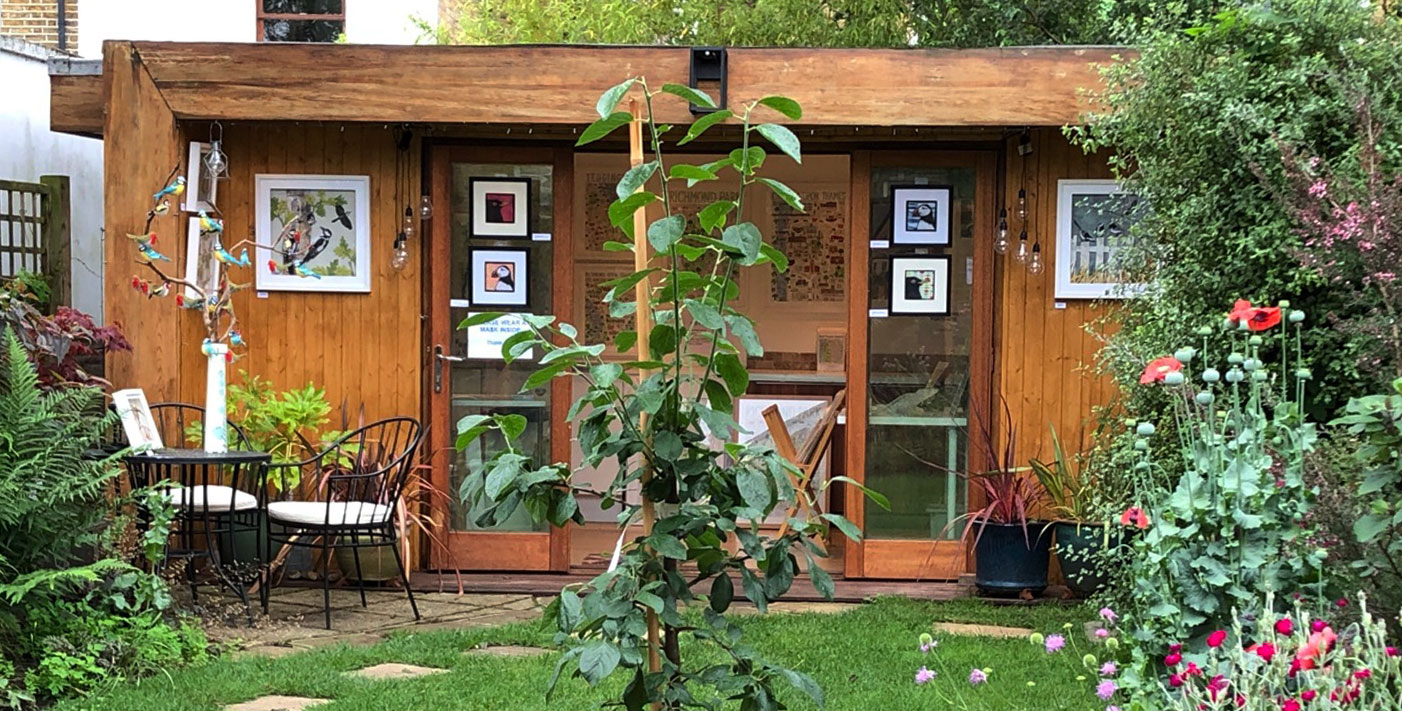 All workshops take place in my garden studio
About the Course
In this fun and inspiring workshop you will learn a number of monoprint techniques on paper and/or fabric. You can work from some of your own images (photos and/or drawings) or from some of mine. Emphasis is on experimenting to achieve a range of visual effects. As the course is run for no more than 3 people at a time, it can be tailored very much to individual needs and requirements
By the end of the day you will have:

-
Learnt about materials and equipment required for monoprinting
Studied a range of examples for inspiration and understanding
Observed a number of demonstrations for inspiration and understanding
Created a set of printed images to take home with you
Understood health and safety issues when monoprinting
Received a set of technical handouts to support your day's learning
The workshop is run for groups of no more than 3 people on a day negotiated with me (can be weekdays or weekend) and is held in my garden studio close to Richmond Park and Kingston town centre. The cost for the 1 day workshop is £80 each, or if you want to do the course on your own it will be £150.
I have over 30 years experience teaching art, textiles and printmaking in further and adult education, in colleges and privately too, so you can be certain of well structured, well paced and inspiring teaching and learning.
I have been a practicing artist and designer for over 30 years, exhibiting nationwide and working commercially within the field of illustration and textiles.
What's included in the price?
Costs include all materials, tea, coffee, soft drinks.
BOOK
Please email me to book or find out more about my courses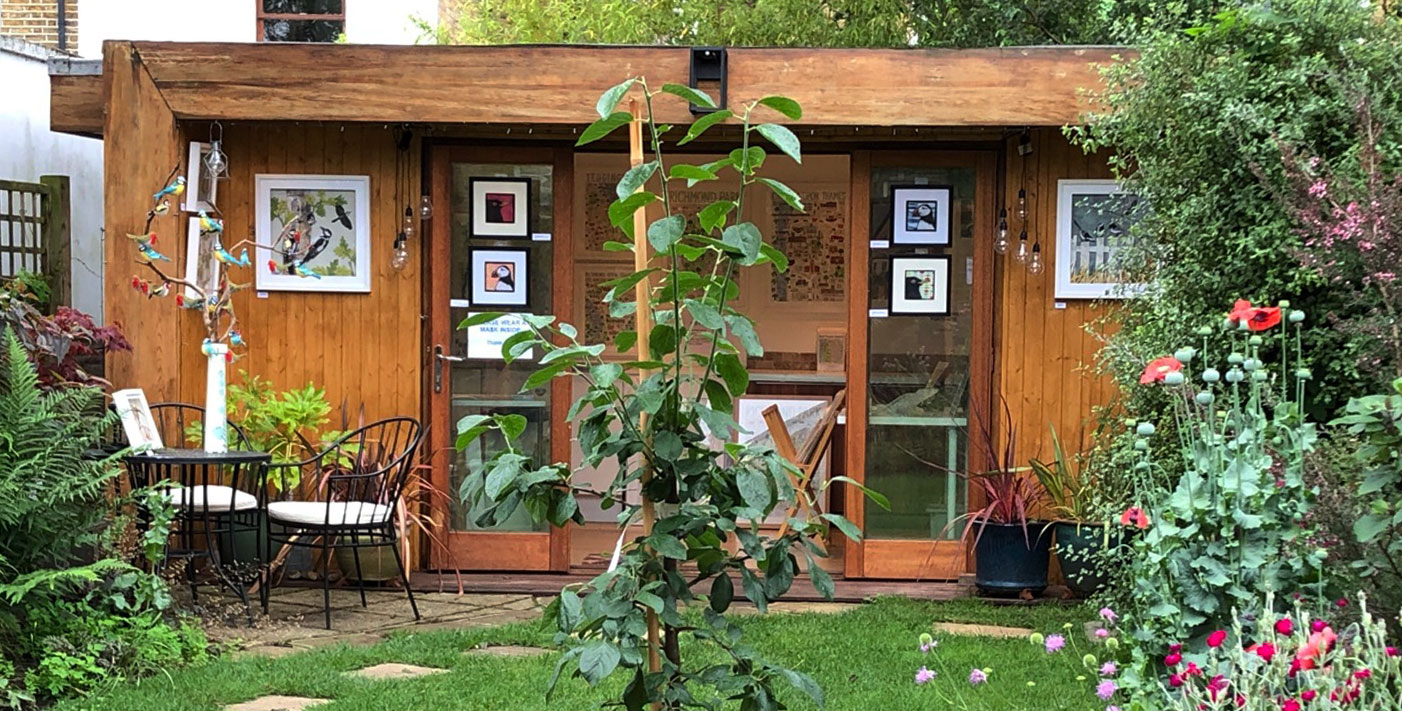 All workshops take place in my garden studio
Very inspired and excited after a wonderful day mono printing with Ruth.
What a lovely environment to work in.
Ruth explained the techniques really well and we had a great time exploring them.
Plenty of space and materials to use.
The day went so quickly! Ruth was a great host, lunch, cake and tea was delicious.
I thoroughly recommend this! Looking forward to booking another course in the near future.
Heather Miller
Ruth's garden studio was the perfect backdrop for a super relaxed and creative day. Ruth's expertise in teaching was clear as she was very patient, concise in her instruction and provided us with a hand-out of all the different techniques we were able to develop. I had some prior knowledge of mono printing and with Ruth's expertise, I was able to develop my skills further and realise more potentials of this technique. Thank you Ruth, you were a truly magnificent host- delicious lunch and home made brownies, with free-flowing tea or coffee to boot.
Amy Dinham
Spent the most enjoyable day with Ruth Blackford doing the experimental mono printing course, in a delightful garden studio. Everything was beautifully prepared for us. Ruth provided images, or you could use our own designs. She taught us a variety of ways to print, my favourite was using the tissue paper for chine colle.
We had a delicious lunch, tea, coffee, and lemon drizzle cake. The day just flew by, and now I want to do the two day collograph course.
Thank you Ruth, you are a very talented lady, and an excellent tutor.
Susan Hodgson
I had a great day printing with Ruth. She is a very talented lady and a great teacher. Apart from the tuition I was kept fed and watered all day. I didn't want to take a break as I was enjoying myself so much but I'm glad I did stop as lunch was lovely.
I learnt new skills and was pleased with what I produced. I shall certainly be back to learn some more.
Thank you Ruth for an informative, fun day printing in your delightful garden studio.
Lynne Francke
I thoroughly enjoyed being able to experiment with print techniques in this well run and informative course. Ruth is an excellent teacher who inspired me to produce some interesting work. Thank you Ruth.
Sue Owen
Fab day and a fab location! Beautiful garden setting and a great place to learn about printing.
Ruth is an amazing tutor (and makes great cakes to boot!) Couldn't have asked for a better day.
Inki
Keen to do some monoprinting, so spent a load of time surfing the web to find out about it. Thought I knew it all and fell at the first hurdle! There is no substitute for one on one tuition and Ruth soon put me on the right track. Charming studio and delightful host!
Syd
Thoroughly inspiring workshop run by fantastic tutor, Ruth Blackford. Without a doubt I got more than my money is worth. Going to have to book another one!
Creative bod